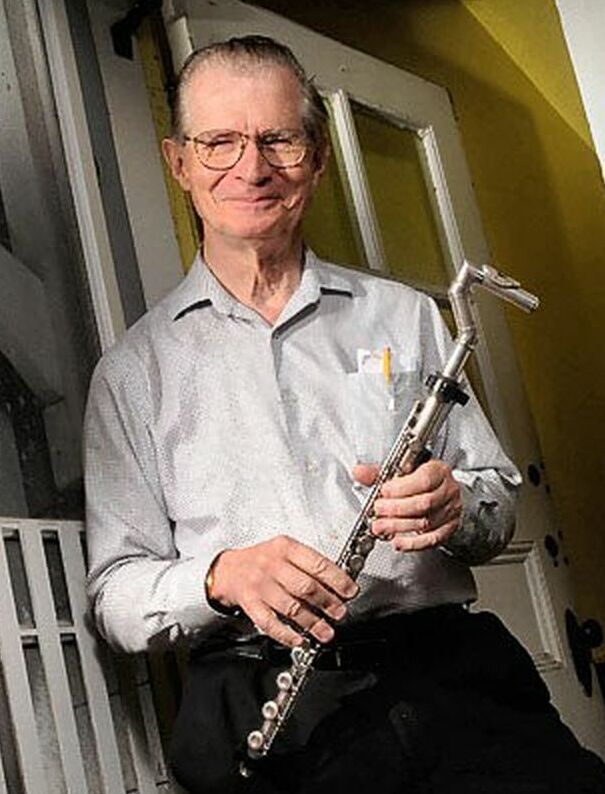 Obituary of John William Oberbrunner
John Oberbrunner, a pillar of the Central New York music community for more than 60 years, died on March 31 at age 92. A charter member of the Syracuse Symphony Orchestra as principal flutist, Oberbrunner performed in hundreds of concerts around the world, including multiple appearances at Lincoln Center and other major halls. He recorded extensively in a variety of instrumental settings, produced concerts in and around Syracuse, hosted radio programs, and taught generations of musicians on the college level and in private lessons at his highly regarded Oberbrunner Flute Studio, in addition to his longtime work as instrumental music instructor in the Syracuse public schools.
The son of professional musicians Madalyn and Carl Oberbrunner, he was raised in New York City, where he attended the High School of Music and Art and the Mannes School of Music. Recognized as a gifted young flutist, he worked for two summers in the training orchestra of the National Orchestral Association, culminating in a performance at Carnegie Hall while he was still in his teens, the earliest of multiple concerts there. Before he became a much sought-after teacher himself, Oberbrunner studied with the flute masters Julius Baker, Doriot Anthony Dwyer, George Hambrecht, Henry Hambrecht, and Mildred Hunt Wummer.
Oberbrunner was graduated from Syracuse University with a degree in Music Education. He taught flute at his alma mater for decades, while also teaching a wide array of band and orchestra instruments to students in the Syracuse school system. For nearly half a century, literally everyone in Syracuse who ever took a music lesson on any instrument other than strings studied under John Oberbrunner.
A leading force in the presentation of high-level music, Oberbrunner performed prominently in and often produced concerts of woodwind ensembles, chamber music, and "new music" throughout the Syracuse area, including the Flutessence series that he created and led in his later years. A highlight of his legacy in music advocacy is the Mid-Winter Concert of Syracuse Friends of Chamber Music (SFCM), an annual event he initiated 20 years ago, produced, and nurtured fervently until as recently as early 2021. Working further with the SFCM, he inaugurated an annual chamber-music contest for young musicians, which continues to thrive.
His musical interests were as expansive as his gifts, as he demonstrated in the wide range of his work, recording notably with the "third-stream" jazz musician Eric Dolphy and performing with the jazz and cabaret singer Karen Oberlin, his daughter. An ardent vocalist himself, Oberbrunner sang in a variety of choral groups with his beloved wife of 61 years, Dr. Carol Oberbrunner, a professor of philosophy at Hobart and William Smith Colleges.
In addition to Dr. Oberbrunner, he is survived by their three children, Gary Oberbrunner, LisaAnn Oberbrunner, and Karen Oberlin Hajdu; four grandchildren, Rowan Livingston, Anna-Astrid Oberbrunner, Carl Oberbrunner, and Emery Hajdu; and two step-grandchildren, Jacob Hajdu and Victoria Abramson. The family asks that those wishing to donate in John Oberbrunner's name do so to Syracuse Friends of Chamber Music or Symphoria. A public memorial will take place at a later date.
Written by John Oberbrunner's son-in-law, David Hajdu
A Memorial Tree was planted for John
We are deeply sorry for your loss ~ the staff at Hollis Funeral Home