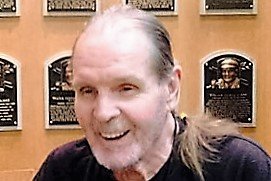 Obituary of Steven Kever
Steven K. "Stacey" Kever, 78, of Manlius, passed peacefully into the light and love of God in the presence of dear friends on Friday, July 21, 2017, at the Syracuse VA Hospital. Stacey was born in Beloit, Wisconsin on December 13, 1938. His father was a career Army man, and Stacey and his mother traveled extensively, following his father from post to post. Stacey joined the Army at age 17, became a Patton M46 tank driver assigned to the 40th Tank Battalion in Korea, where he ranked as a Specialist 4th Class. As part of the Korean defense force, his unit was stationed above the 38th parallel as the first line of defense in the red zone.
After his discharge, he traveled to Los Angeles to pursue his goal of becoming a writer. As the years progressed, he came to realize he had inherited his father's predisposition for depression and alcoholism, never static conditions. Over time, his compulsions escalated, with increasingly devastating effects.
In the hippie era 1960's, he moved to San Francisco. Around 1967, he became a prime leader in the Haight-Ashbury social activism of the time. He helped found the Church of the Good Earth, as well as the Good Earth Commune and the community store – as depicted about Stacey in several books about that era. He also collected food and clothing for the needy of the neighborhood. He accomplished all of this, while simultaneously struggling with his own demons. His downward spiral worsened and he moved back to Florida. Still determined to help alleviate social afflictions of the time, Stacey threw himself into working as an advocate for the homeless. He worked for AmeriCorps and the National Coalition for the Homeless. The irony here is inescapable: at the same time, he was working for the homeless, he himself was often homeless.
Nevertheless, Stacey was a talented and intelligent man who sought knowledge, read prolifically, and was ever intrigued by the world around him. Despite his difficult circumstances, he managed to work at intermittent construction jobs and eventually was able to receive a scholarship to attend college. The college experience heightened his resolve and self-confidence. He wrote serious poetry, essays and short stories. He won awards and went on to graduate with a Bachelor's degree – the oldest student in his class!
However, the more his deep-seated emotional issues went unacknowledged, the more he tried to compensate with self-medication. In no time, he had gravitated back to the street life. Years later, Stacey related that at this low point, he experienced a "spiritual awakening" to the harsh reality of his deteriorating health. He realized he was now living on borrowed time and that his own drugged-out death was imminent.
Then, as Providence would have it, a longtime friend from the Syracuse area and his days with the Good Earth Commune, visited Stacey in Florida, saw his lifestyle and living conditions and urged him to get immediate help. His friend told Stacey he must leave that place, those people, and that life completely – and quickly. He assured Stacey that he could come stay with his wife and him in their home in the Syracuse suburbs. There, Stacey could rest, and take stock, move into recovery, eventually get his own place and his life back – better than ever.
When the friend returned home, true to his word, he sent Stacey a ticket to Syracuse. Stacey recognized this gift as his last lifeline – if he wanted to survive, he had no other options. When he got to Syracuse, he lived with the couple while taking his initial steps toward recovery. He joined A.A., where he found an encouraging group of friends committed to the program's clean and sober lifestyle.
Of course, the road to recover is never without struggle; Stacey had many ups and downs along the way. But he persisted using the time-proven tools of taking responsibility for his actions, past and present, asking forgiveness, and making amends. Through this healing process, he grew to better understand his chaotic childhood, his own parents and their life choices.He joined Clear Path for Veterans in Chittenango and was welcomed with warmth and understanding by an outstanding group of veterans and their supporters – comrades who could relate to his often traumatic experiences. Stacey joined the S.U. Veterans Writing Group and joyfully returned to writing more short stories, poems, and personal memoirs. One of his pieces was included in the group's recently published Veterans Anthology, The Weight of My Armor. Stacey continued his service by speaking out to raise awareness of Veterans' mental health issues and PTSD, manifested by so many returning Vets and their worried families.
Stacey's unique character, his ever-present dry sense of humor, keen curiosity and brave spirit were an inspiration to those who knew him. No stranger to struggle, Stacey went from troubled child, to depressed adolescent, to lost soul, to truth-seeker, to grateful recovering addict and – against all odds – to something of a local folk hero. Stacey Kever was a man of grit and grace and his passing is a great loss to all who were blessed to know him.
• On Thursday, August 10, at 12 Noon, a service will be held for Stacey at Veterans Memorial Cemetery, 4069 Howlett Hill Road, Syracuse.
• Following the service, an informal get-together and memorial to honor Stacey will be held at The Ridge, 1281 Salt Springs Road, Chittenango, NY 13037. All are welcome.
• In lieu of flowers, donations in Stacey's memory may be made to: Clear Path for Veterans, 1223 Salt Springs Road, Chittenango, NY 13037.