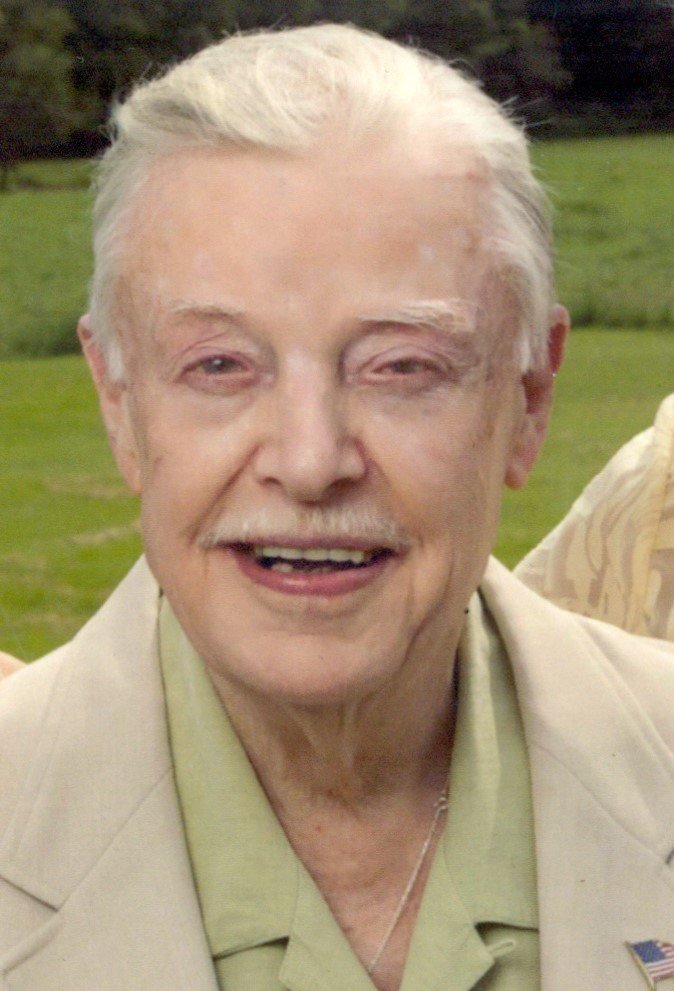 Obituary of Carl Franklin Guy Jr
** In lieu of flowers Grace has asked that donations be made to the Memorial for Carl Guy, Jr. to benefit Father Tariq Mehmood for Enthronements to the Sacred Heart of Jesus globally. Please click the link below and donate on our Facebook page:
https://www.facebook.com/donate/1003189593393325/?fundraiser_source=external_url
Prominent Attorney and proud Army Veteran Carl F. Guy died peacefully at his home on Friday January 10th with his wife of 67 years at his bedside after spending the day with his children, grandchildren, and friends in prayer and listening to them reminisce of his grace-filled life. Carl met Grace Popp in 1952 at the Swiss Room Restaurant where she worked at her father Fred's popular landmark Yates Hotel in Syracuse. Within one year they married and began their family while Carl worked nights at his truck washing business and attended Syracuse University's College of Law where he graduated second in the Class of 1955.
Carl began his accomplished legal career as a partner in the firm of Adcooke, Doyle, and Guy in Manlius where he worked long hours honing his storytelling skills judiciously as a successful criminal and civil litigator while Grace provided a loving home for their family that would grow to include eight children.
An outspoken conservative and pro-life advocate, Carl worked on many Republican political campaigns including Barry Goldwater's Presidential Campaign in 1964. He served as a GOP Committeeman and was a key regional supporter of Ronald Reagan in the 1980's. He taught his children the importance of being actively engaged in civic life.
In July of 1975, Carl drove his new GMC Suburban with a 20-foot trailer in tow to the Yucatan Peninsula in Mexico with three of his sons to explore the Mayan Archaeological Sites there. They went on to visit the Shrine of Our Lady of Guadeloupe in Mexico City after losing the trailer while driving through a jungle when it was blown off the hitch by strong winds in a storm. He inspired a sense of adventure in his children, always encouraging them to expand and explore their interests. He was an example of true devotion and perseverance in the midst of life's storms.
Carl founded the group Citizens for Decent Literature in the mid 1970's to mount opposition to the proliferation of pornography which he recognized early on as a serious threat to marriage and family life that was so important to him. He provided his children with a clear example of putting your faith into action.
As a founder of the Westvale Club, Carl worked with many of his neighbors in the Town of Geddes to fund and build the Geddes Sport Fields on Fay Road and helped make Geddes a great place to raise a family.
Carl was instrumental in the formation of the Sacred Heart Apostolate, helping Gloria Anson to begin the non-for-profit ministry that started in Syracuse and went worldwide.
In order to spend more time with his wife and children, beginning in the early 1980's, Carl chose to operate a solo practice out of his home across the street from Bishop Ludden High School, where each of his four girls and four boys would continue their Catholic educations begun in his home.
When pro-life activists were arrested in the early 1990's for blocking access to Planned Parenthood Centers in the hope of preventing injury and death to mothers and their unborn babies there, Carl donated long hours and effective legal representation. He stood up to over-zealous and aggressive prosecutors who were seeking to score political points at the expense of justice when no other lawyers would help them.
Carl was devoted to his clients who trusted his counsel and attention to their needs. He maintained his law practice and many attorney client friendships until his declining health in 2018 required him to reluctantly withdraw from active involvement in his many friends' legal matters.
Together with Grace, Carl is also survived by seven of their eight loving children and their spouses, Kathy Simcox, Teri and Jim Cameron, Carl and Debbie Guy, Rick and Alycia Guy, Pat and Shannon Guy, Mike and Alison Guy, Ginnie and James Confer and; having lost their daughter Grace Michele Loughran, wife of Kevin Loughran, to breast cancer in 2017. Jim Cameron, husband of Teri Cameron, died in 2014. Carl and Grace came to have 36 grandchildren and 36 great-grandchildren too many to be named here. Grace would like to send a heartfelt thanks to Carl's dedicated caregivers, Eva, Jolia, Colleen, Laureen, Lydia, Steve, Shannon, Alison and Dr. John Callahan from the VA.
Calling hours: Friday, January 17, 2020, 5to 8 pm Hollis Funeral Home, 1105 W. Genesee St. Syracuse.
Funeral Services: Mass of Christian Burial will be held Saturday 12 Noon in The Basilica of the Sacred Heart of Jesus 927 Park Avenue Syracuse NY 13204
Burial with Honors: Oakwood Cemetery, Syracuse
** In lieu of flowers Grace has asked that donations be made to the Memorial for Carl Guy, Jr. to benefit Father Tariq Mehmood for Enthronements to the Sacred Heart of Jesus globally. Please click the link below and donate on our Facebook page:
https://www.facebook.com/donate/1003189593393325/?fundraiser_source=external_url