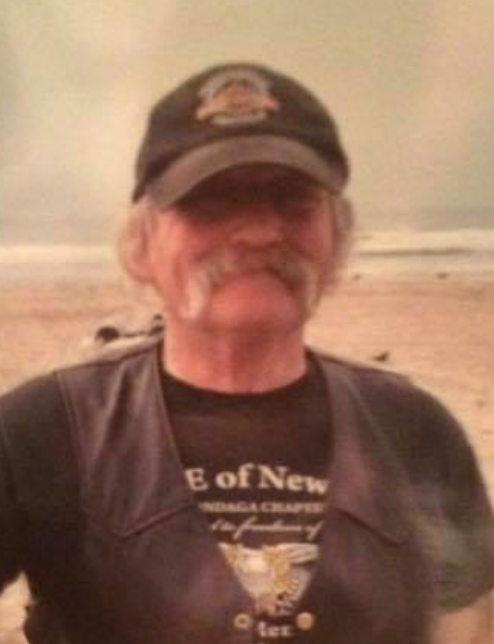 Obituary of Wayne Holt
Wayne Holt, 74, passed away on December 2 2020 at home after a long battle with cancer.
Born in Syracuse, NY, he was the son of Joseph Holt and Anna Moseiuk. He graduated from West Genesee High School where he joined the US Army where he served in Vietnam. He was employed at Conrail Railroad as a foreman for several years. He also was a self-employed carpenter.
He was a member of the Onondaga County Abate Association which he was very proud to belong too because of his love for motorcycles. He will be remembered for his standing out in the crowd kind of guy, always going out of his way for others and just being the life of the party, his love for motorcycles and classic cars, his true #1 love, his family. His children and grandchildren meant the world to him. Not a thing he would not do for them and spending time together was something he enjoyed doing often. He was known as "Mr. Mom". He raised his 2 younger daughters, Victoria and Rachel by himself since they were young girls. He held both the Mom and Dad title and that is something he was very proud of. He also played a very important role in 2 of his Granddaughters lives as both Grandpa and Dad. He will be missed by many and may his soul ride his Harley to the gates of heaven!
He is survived by his 4 children, Lisa Holt of Clifton Springs, NY, Joseph Holt, of Rochester NY, Victoria Holt of East Syracuse, and Rachel Holt of Elbridge, 9 grandchildren which he absolutely adored, a Brother Gary, (Diane) San Diego CA, and a Sister, Pam Burch, of Weedsport, 1 Niece, and 1 Nephew.
Funeral Service: 11AM Wednesday, December 16th, Veterans Memorial Cemetery Chapel 4069 Howlett Hill Road Syracuse NY 13215
Burial with Honors: Veterans Memorial Cemetery Syracuse, NY
To send flowers to the family or plant a tree in memory of Wayne Holt, please visit Tribute Store
Wayne's Funeral Services
11:00 am - 11:30 am
Wednesday, December 16, 2020
Veterans Memorial Cemetery Chapel
4069 Howlett Hill Road
Syracuse, New York, United States
315-484-1564