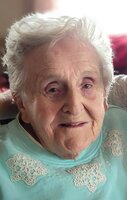 Irene K Contos
Our beloved mother, Irene (nee Krupinski) Contos, also known as Babci, Mumsey, and The Rock, passed away on Monday, July 25, 2022 after suffering a stroke 3 days prior. At 97 years young, she was a lifelong resident of Syracuse, born on March 7,1925; the 6th of 8 children of parents Bronislawa (Onacki) and Walter Krupinski. Irene attended Porter School and graduated from Vocational High School where she did well in her lessons but really excelled at, and gained a love of athletic competition. During a single game of the Frazer Girls Basketball team, Irene scored 46 points, the rest of her team contributing 20 for a winning score of 66 to 2. As a teenager, Irene turned her athleticism to fast pitch softball with her team, Prosperity Green Hornets vying for the 1941 NY State Championship. Catching the eye of a scout, she was invited to tryout for the All American Girls Professional Baseball League but declined the offer. She did however, continue to play in recreation leagues in Syracuse until the age of 92. That's not a typo! Wings and beer after the game was a regular event where the evenings ended with a chorus of "Good Night Irene" as she left the bar. Irene was married to John Paul Contos (deceased 1990) for 42 years and is survived by 7 children. Jack (Eloise), Linda Caniezo (Leo), Judy (Robert), Carol Cursi (Steven), Andrew (Wendy), Theresa (Shelagh), and Mark. Irene was "Babci" to her grandchildren and their spouses, Jonathan and Veronnica, Gianna and Gabe, Kevin, Andrew and KeAna, Jeremy, and Drew; and great grandchildren Justin, Calissa, Anthony and JJ. She was also well loved by nieces and nephews and many friends gained throughout her long life.While raising the Contos Clan, and playing ball, Irene also worked for 30 years at the YMCA Downtown Syracuse. Her other interests included attending her children's and grandchildren's sporting events and fishing on the various waterways of Central New York. She even ice fished a time or two. A die hard sports fan, on most evenings between April and October, the TV would be tuned to the NY Yankees games where she rooted for Derek Jeter and her latest crush Aaron Judge. Irene was a true matriarch and rock for her family. She was a great cook, a role model for how to parent, a generous, fun-loving individual with a great personality who will be missed by all who knew her. Good Night Irene, we'll see you in our dreams.
Calling hours: Wednesday, August 3 4:00pm to 7:00pm at Hollis Funeral Home, 1105 Genesee Street, Syracuse, NY 13204.
Funeral Services: Mass of Christian Burial Thursday, August 4, 9:30am at Basilica of the Sacred Heart, 927 Park Ave, Syracuse, NY 13204.
Because Mom enjoyed good food, in lieu of flowers, consider a donation to the Food Bank of Central New York, 7066 Interstate Island Road, Syracuse, NY 13209 or ONLINE www.foodbankcny.org