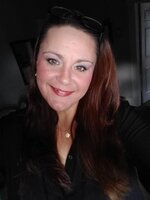 Michelle Kolodziejczyk
Michelle Lee Kolodziejczyk, 48, passed away unexpectedly on June 20, 2022. She was born August 4, 1973 and lived most of her life in Syracuse. Michelle loved to spend time with her family and friends. She was a ray of sunshine that will truly be missed.
Michelle is survived by her son Robert Ferguson Jr., daughter Elizabeth Mango, father Francis (Frank) Kolodziejczyk, sisters Kimberly and Lisa Kolodziejczyk, brother Francis (Frank) Kolodzieczjyk Jr., and several nieces and nephews. She is preceded by her mother Bonnie Kolodziejczyk (Smith).
A memorial service to celebrate Michelle's life will be held at Mill Run Park in Manlius on Friday July 15th from 2-6pm. Bright colors are encouraged for all that attend.
In lieu of flowers, donations can be made to the American Diabetes Association at http://www.diabetes.org