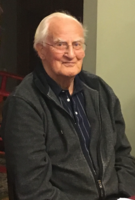 George F. Davis
George F. Davis, 94, passed away peacefully in his home on June 9, 2022, with his family by his side. He was born in Saranac Lake, NY to Wilhemina and Corydon Davis, attended Saranac Lake High School, and in 1950, he joined the United States Army and was stationed in Mannheim, Germany. After his time in the service, George worked in the insurance industry for the Upstate NY territory.George was a faithful parishioner at St. Charles Church for over 60 years and spent much of his time volunteering in various activities and parish functions. He could always be relied upon to do whatever was needed.
George is survived by his loving wife of nearly 67 years, Beverly (Warren) Davis, his daughters, Kathleen (Frank) Hosek and Karen (Russell) Villi, his son, Richard (Pamela) Davis, as well as his grandchildren, Nicole, Brian (Cecilia), Dan, Matthew, Lauren, Jessica, Christine, and several nieces, nephews, and cousins.
The funeral will be held on Monday, June 20th at 11am at St. Charles Church. Family will be available 1 hour prior to the Mass. Burial to follow at Assumption Cemetery. In lieu of flowers, a memorial donation may be made to the St. Charles Food Pantry or St. Bernard's School in Saranac Lake, NY.