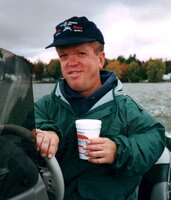 James "Jim" Onacki
James H. Onacki, 62, passed away on May 27 at the home he shared with his wife Debbie with family by his side. Jim was born in Syracuse to Herb and Alice Onacki and spent the majority of his childhood in Fairmount and Camillus.
Jim graduated from West Genesee in 1978. During his time there he was the team manager of the football team, a wrestler and he played lacrosse for a man who became a friend, Mike Messere. In addition, Jim played in the Shove Park, box lacrosse league and coached both youth hockey and youth lacrosse. After high school, Jim attended OCC and SUNY Oswego where he played lacrosse for the Lakers while earning his bachelor's degree in communications. A crowning moment for Jim came in 2019, when he was inducted into the Camillus/West Genesee Sports Hall of Fame. Sports continued to be a big part of Jim's life as he played golf in several leagues and softball in several others and spent many hours chasing the one that got away. Later on, when his body wasn't up to participating anymore, he became most every sport's biggest fan.
Jim worked for Onondaga County for more than twenty years before his retirement in roles for the Sheriff's Department and Van Duyn. It was during this time that he met and married his wife Debbie with whom he shared just shy of 21 years of marriage.
Jim was predeceased by his parents and his sister Dorothy Onacki.
Left to cherish his memory in addition to his wife Debbie are his two stepsons Trevor Besaw (Debbie) of Buffalo, NY and Justin Besaw (Toni) of Phoenix, NY, seven grandchildren Sarah, Rebecca, Devon, Caylee, Ashleigh, Shauna, and Cameron, his siblings Bob Onacki (Nena) of Randolph, NH, Alice Ann Colacino (Tim Ingram) of Redondo Beach, CA, Bill Onacki (Nancy) of Aurora, CO, John Onacki (Karen Williams) of Mesa, AZ, Peggy Stevenson (David) of Las Cruces, NM and Mary Spear (Tony) of South Glens Falls, NY, in addition, Jim leaves behind many beloved cousins, nieces, nephews and cherished friends.
Calling Hours: Monday, June 6th, 9AM to 11AM at St. Charles of Borromeo Church 417 S. Orchard Rd Syracuse followed by a Mass of Christian Burial at 11 AM
Interment will be private and at the convenience of the family.
The family would like to offer gratitude to the staff of the tenth floor of Upstate Medical Center, St. Camillus Home Care and Hospice of CNY for all of their loving care of Jim through his many hospitalizations and his final days. In addition, the family would like to say thank you to Chris, Mark, Paul and Jerry for your help in walking with Jim and with us through these times.
Memorial donations may be made to Francis House 108 Michaels Ave., Syracuse, NY 13208 ONLINE www.francishouseny.org or Hospice of CNY 990 7th N St, Liverpool, NY 13088 ONLINE www.hospicecny.org
As one of Jim's friends said upon hearing of his passing "He stood taller than the rest of us."