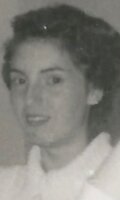 Janet Hiscock
Janet H. Hiscock 85 of Jamesville,N.Y. born on August 18, 1936 passed away on March 13, 2022 at Menorah nursing home. She was born in Potsdam,NY. to Robert and Florence Thomas.
She was employed at Learbury clothing as a seamstress. She loved spending time with her friends at Barrett Manor apartments where she lived. She loved her family and her special dog.
Janet was predeceased by her brothers Layton,Clifford,Dean,Raymond and sisters Cecile(Nita),Beverly.
She is survived by her daughters Cindy Halsey (Tom), of Kirkville, Sandy Mulllennix. (Russ) of Texas, Sheri Kennedy (Steve Real) of Nedrow , sons Skip Hiscock of Michigan,Rich Michaud (Jennifer) of Syracuse. Grandchildren Kim Shirtz, Kelly Halsey, Krista Chilcoat (Ryan), McKenzie Kennedy, Jason Mullennix(Jessica),Jeremy Mullennix (Angie), Jenny Efurd (TJ), Amanda Nieboer (Joseph), Nicolle Michaud, Halee Michaud, Grace Michaud, Nate Michaud. She had 15 great grandchildren.She is survived by her sister Barbara Compton (Carl) of Tully.
.
Services are Private