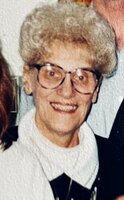 Michaline "Granny" Secretti
Michaline (Granny) Secretti of Trolley Barn Ln North Syracuse passed Monday, January 24th, many knew her as Michelle but most knew her as Granny. She came to the United States in the late 50s. Born in Romania, her family lived in several other European countries before settling in Germany where she met her 1st husband the late Douglas Brown of Liverpool, who was stationed there in the army during the Korean War. She returned with him to the states where they lived in various places in the Syracuse area. They had 4 children who survive her, Audrey Hamner of Cicero, Charlotte Kelly of Mattydale, Mark (Nora) Brown of Liverpool and Brenda (George) Marshall of Fairmount, as well as several grand and great grandchildren. In the 60s, Michelle had a successful job as a seamstress to the rich and famous at Edison's boutique in the original Hotel Syracuse, but it was her long career as a well know restaurant owner that she is most known and loved for. Her last and longest running restaurant was The Quick Cup restaurant in Syracuse which fed crowds of people for over 40 years, and everyone knew her as "Granny" were always entertained by her sharp wit and sarcasm. Granny never pulled punches; she was one tough broad who said exactly what was on her mind. She was Never PC.
Michelle also owned racehorses for a period of time and loved the horse track, as well as playing poker, bingo, bowling and later casinos, and a longtime love for The NY Yankee's.
Her biggest joys in life were her grandchildren, whom she showered with love and her Granny wisdom. Always with a thick German accent.
Calling Hours: Saturday 1 to 3PM Hollis Funeral Home 1105 W. Genesee St Syracuse.