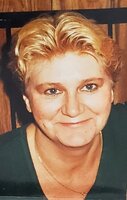 Theresa Luce
Theresa Luce, 62 passed away on January 5th, 2022, at St. Joseph's Hospital. She was the wife of Howard Luce. They shared 39 years of marriage together.
Born in Onondaga Syracuse NY, she was the daughter of Joyce and Lawrence Welsh. Theresa was a dedicated home maker.
Theresa enjoyed swimming, bike riding, sewing, football, and being an amazing wife, mother and home maker. Theresa will be remembered for being loving, outgoing, outspoken, being a wonderful wife, mother and grandma. Theresa never bit her tongue, always said it like it was, always upfront and up for a challenge.
Theresa is survived by Howard Luce, Jason (Heather) Welsh, Cassie (Alfonzo) Luce, Howard Shane (Keyra) Luce Roxanne (Simon) Olshansky, Larry Welsh and 10 beautiful, amazing grandchildren. Theresa is predeceased by Lawrence Welsh, John Welsh, Joyce Welsh, Bonnie Welsh, and Cheryl Dodge.
The funeral services will be private and held on a future date at the convenience of the family