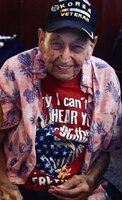 Theodore J. "Ted" Kocienski
Theodore J. Kocienski
"Ted" "Teddy" "Hawkeye"
Ted, 90 years old, passed away on December 10th, 2021, with his beloved family by his side. Ted was a proud United States Army Veteran, having served in the Korean War. Ted retired from Western Electric, Heritage, Peter's IGA Groceries, and P&C. Ted was also a member of the Syracuse Polish Home and PLAV Post 14. Ted was an avid volunteer at Sacred Heart Cafeteria and St. John The Baptist Food Pantry. Ted is predeceased by his wife, Mary Irene, of 55 years, daughter Maryann, his parents; Anthony and Mary Kocienski, and his four siblings; Helen Kronafel, Wanda Soboleski, Eleanor Mania, and Edward Kocienski. Ted is survived by his children; James (Gail), Katherine (Philip) Wiacek, Robert (Tammy), Ann (Edward Sr.) Lewis, 13 grandchildren, 10 great-grand children, sister in law, Virginia Kocienski, and several nieces and nephews.
Calling Hours: Wednesday, December 15th, 2021 from 4:00 pm-6:00 pm Hollis Funeral Home 1105 West Genesee St Syracuse. (Masks are required)
Funeral Services: A Mass of Christian Burial Rites for Ted will be held at Sacred Heart Basilica on Thursday, December 16th at 9:30 am.
Burial with Honors: Veterans Memorial Cemetery, Syracuse.
Instead of Flowers Family request that: As Ted was one of eighty veterans who attended Honor Flight Mission 9 from Syracuse, New York to Washington, D.C, in April 2017, the family is asking that donations be made to the Syracuse Veteran's Honor Flight Program at honorflightsyracuse.org, or to the Syracuse Polish Community Foundation Inc. 915 Park Avenue Syracuse, New York 13204 online at www.syracusepolishhome.com. ( Both organizations are 501c3)
IN HONOR OF TED, PLEASE WEAR RED!!!