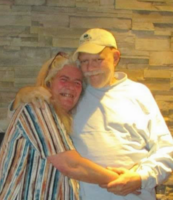 Dale Duprey
Dale M. Duprey, 56, passed away on November 24,2021. Born in Syracuse, NY, he was the son of Donald and Patricia Duprey. He was a self employed carpenter his entire life.
Dale enjoyed building model cars and loved animals, especially, Dawn's dog, Cocoa. Dale is survived by his partner, Dawn Wright, they shared 18 years together;
his children; Dale Duprey and Michelle Duprey; Sisters, Patrice Nichols (Bill), Linda Georgevich and Sherrie Duprey; Brothers, Donald Duprey and James Duprey. He was predeceased by his parents, Donald and Patricia Duprey.
Visitation : Tuesday, November 30th, 11AM to 12 Noon with Funeral Services following at Hollis Funeral Home 1105 West Genesee Street Syracuse.
Burial: Onondaga Valley Cemetery, Syracuse