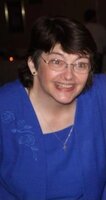 Michele Scharf
Michele Ann Scharf (Jones), 66, passed away peacefully on November 8, 2021, surrounded by her loving family. She was born in Syracuse, the daughter of Robert and Jane Jones, and spent a good portion of her life as a Florida resident.
She was an LPN nurse and enjoyed working with the geriatric population in both Syracuse and Florida for over 30 years. She loved her many nieces and nephews and enjoyed spending time with them. Her favorite pastime included spending time with her family and many friends. Michele was known for her compassion, kindness and was always willing to help anyone in need.
She is survived by her mother, Jane Jones of Bradenton, FL, predeceased by her father Robert Jones, siblings Robert Jones (Luanne) of Lutz, FL; Lynn Winks-Loffler (Greg) of North Fort Myers, FL; Cathy Fisher (John) of Bradenton, FL; Anne Spicciati (Frank) of Liverpool, NY and John Jones (Tammy) of Valrico, FL; and many nieces and nephews. She will be deeply missed by all who knew her.
A Celebration of Life Mass will be held at 10:00 am, Friday, November 19, 2021 at Our Lady Queen of Martyrs Catholic Church on Magellan Dr. (9th Street East), Sarasota, FL 34243 with Burial to occur immediately after the Mass.
In lieu of flowers, donations can be made to the American Diabetes Association Online at www.diabetes.org