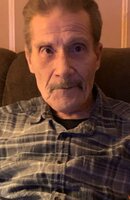 Warren Boyce Jr
Warren F. Boyce Jr., 67, passed away on October 15, 2021, peacefully at his home in Syracuse, NY. He was the husband of Laurel L. Boyce (Burt), who shared 40 years of marriage together.
He was born in Syracuse, NY and was a veteran of the United States Army. He enjoyed fishing, bowling and was an avid New York Mets baseball fan. After decades of service, he recently retired from the United States Postal Service.
He is survived by his wife, Laurel L. Boyce (Burt), his sons Warren F. Boyce III, Nathan W. Boyce and wife Kaitlin E. Boyce, his grandson Brandon R. Boyce, his daughter Kristen M. Boyce, his brother Christopher G. Boyce and his wife Connie Boyce. He was predeceased by his father Warren F. Boyce Sr. and his daughter Jennifer L. Boyce.
Calling Hours: Tuesday, October 26th, 10AM to 12PM with Funeral Services following at Hollis Funeral Home, 1105 West Genessee St., Syracuse, NY 13204,
Burial with Honors : Veteran's Memorial Cemetery, 4069 Howlett Hill Rd, Syracuse, NY 13215.