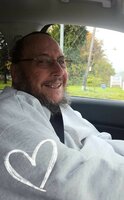 Thomas Peter Wojslaw Sr.
Thomas Peter Wojslaw Sr, passed away September 4th at age 73. He was the husband of wife, Connie Wojslaw. They shared 53 years of loving and memorable married years together.
He was born in Syracuse, the son of Peter and Julia Wojslaw. Educated at Sacred Heart School, Solvay High School and Rider College. He was employed at General Electric Supply and Crucible Steel. He belonged to Epiphany Parish St Joseph the Worker. He enjoyed fishing and hunting with Family and Friends.

Survived by spouse Connie; sons, Thomas Jr and Michael; brother, Kenneth (Kathleen). Blessed with six Wojslaw Grandchildren: Hunter, Noah, Reegan, Krysta Wojslaw Young, Nathan and Kayla. Tom is also survived by, brother in law, Ted (Marcia) Lis, Bridget Cooley and Jennifer Wojslaw and several nieces and nephew. His loving dog Sunka will miss him dearly.

He is predeceased by parents, Peter and Julia and sister, Kathleen Ann Wojslaw.

A Mass of Christian Burial was held at Epiphany Parish SJW with burial following at Liverpool Village Cemetery. Memorial donations may be made to Epiphany Parish at St Joseph the Worker Church.