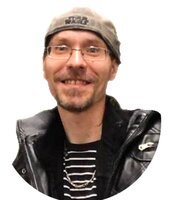 Joseph M Vulcano
Joseph M. Vulcano, 47, of Liverpool, died on September 3, 2021 at Crouse Hospital after a short illness.
He was born in Syracuse on May 15, 1974 to Gail L. (Robins) Vulcano and the late Jerry Vulcano. He attended Liverpool High School and earned his GED. Joe was employed at the Central Association for the Blind and Visually Impaired in Syracuse as a machine operator at the time of his death.
Mr. Vulcano was a loving son, brother, and friend. He was compassionate and kind. He had many interests and passions including doing genealogy research to learn more about his family; making beautiful floral arrangements using his immense creativity; loving all plants and animals; and creating many, many videos on his YouTube channel (Vulcanic's Playground) related to his thorough knowledge and enormous collection of Star Wars memorabilia.
In addition to his mother, Joe is survived by his step-father, Ben Rodriguez; his brother, Nick Vulcano of Hawaii; aunts, uncles, and cousins; and many friends, colleagues, and YouTube followers.
A memorial service will be held on Saturday, September 25, 2021 at St. Paul's Lutheran Church, 210 Hazel St., Liverpool, NY 13088 at 1:00 p.m. Following the service, friends and family will be welcomed at the church's fellowship hall for a gathering in Joe's memory.
Condolences may be sent to Gail Vulcano at 3883 Long Branch Road, Liverpool, NY 13088.
In lieu of flowers, please consider making a donation in Joe's memory to the CNY SPCA by visiting their website to make an electronic donation (http://cnyspca.org/donate/) or mailing a check to Central New York SPCA, 5878 East Molloy Rd, Syracuse, NY 13211. Donations may also be made to HumaneCNY through their website (Donate Now – HumaneCNY) or by mailing a check to HumaneCNY, 4915 W. Taft Rd., Liverpool, NY 13088