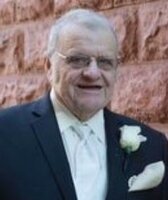 Lyle Goodman
Lyle (Sonny) Goodman, Jr., of Phoenix, NY, born in Renovo, PA on April 4, 1939 to Lyle and Beatrice (Valeria) Goodman, peacefully passed away on August 17, 2021, at St. Joseph's Hospital in Syracuse, NY after a 7 year battle with AML leukemia.
An Army veteran and graduate of Penn State University, he was an engineer in telecommunications for over 30 years and a Christmas tree farm owner and operator for 40 years.
He enjoyed poker, gardening and vacationing with his family. He will be lovingly remembered by his family and friends for his generosity and positive outlook on life and love for his kids/grandkids.
He is survived by his wife Sylvia (Friel) Goodman whom he had been with for over 67 years, daughter Lisa (Leo) Visconti of Tully, NY (grandchildren Arielle Visconti, Eric Visconti, Evan Visconti) daughter Lori (Jeffrey) Bell of Syracuse, NY (grandchildren Jenna Champagne, Jared Champagne, Raquel Bradway, Taylor (Blaine) Sims, Jordan Bell, great grandchildren Alysia and Alex Barfield and Owen Sims).
In lieu of flowers, donations in Lyle's memory may be made to: Roswell Park Comprehensive Cancer Center, Elm and Carlton Streets, Buffalo, NY 14263 or online at www.roswellpark.org
The family will be having a private celebration of his life at a later date