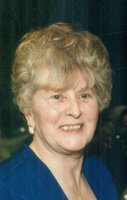 Catherine Felicia
Catherine Felicia, 88 of Camillus passed away Monday at home surrounded by her loving family. Catherine was a dedicated retired cafeteria employee for West Genesee High School. Catherine enjoyed trips to Brennan Beach with her husband and granddaughter, going outside in her garden and planting her marigolds, singing with her family, and going dancing on Saturday night with her husband, Cosimo. Catherine was predeceased by her husband Cosimo, parents Joseph and Jane McCreadie; her two brothers Joseph and James McCreadie. Catherine is survived by her son, Ricky Felicia; daughter, Cindy Lue (Thomas Schultz); her granddaughter, Kayla Schultz (Sunshine); and her two sisters, Martha Schneider and Margaret McCreadie, along with several nieces and nephews.
Calling hours will be Monday 4-7pm at Hollis Funeral Home, 1105 West Genesee St. Syracuse.
Funeral service, Tuesday 10am at Holy Family Church in Fairmount. Entombment; Woodlawn Mausoleum.