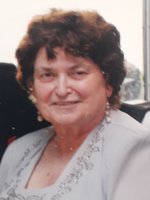 Norma Collacchi
Norma DeSantis Collacchi of Jamesville, passed away peacefully on June 13, 2021. Born in Syracuse on August 23, 1927, to Pasqualina & Eustachio DeSantis, she was one of six daughters whom they were blessed with. Norma was educated in music at a young age and became proficient in many instruments at her parent's Lyra School of Music on North Salina Street in Syracuse. The sisters later formed one of the first all- female bands in the area, The DeSantis All-Girl Band. They performed their music during WW II at numerous USO dances, as well as many private engagements.
In 1951, she married the love of her life, artist and entertainer, Augusto Collacchi, originally from Segni, Italy, and the couple would have celebrated 70 years of marriage this August. Norma had retired from Onondaga County Health Dept. where she worked as a Home Health Care Aide in the community.
Love of family always carried the most importance to Norma and "Augie", who were blessed with beautiful and multi-talented children; Fidelio Collacchi, Annette (Robert) Boulware, Cosette (Thomas) Gallauresi, Donnette DeSantis, and were predeceased by their son, Dino Collacchi. They also had the great fortune of enjoying their life as grandparents with 9 grandchildren and 6 great-grandchildren, as well as numerous nieces and nephews.
There will be no calling hours.
A private Service will be held at Our Lady of Hope in Syracuse. .
In lieu of flowers, donations may be made to Our Lady of Hope Roman Catholic Church