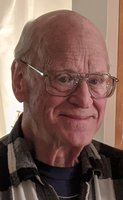 Kent B Birdslow Jr
Kent Birdslow Jr. passed away at Crouse Hospital on May 10, 2021. He was born in Watertown, N.Y. on April 18, 1938 to Kent Birdslow Sr. and Ruth (Gruetzner) Birdslow.
He married his childhood sweetheart on June 4, 1960. He enjoyed bowling, racing and traveling to Florida. He loved spending time with his family. Kent will be remembered for his strong personality and sense of humor.
He worked at General Electric as well as Life Science Laboratories.
He is survived by: Son, Eric (Tracy) Birdslow, two grandchildren, Jessica and Mariah of Lakeland N.Y.
Calling Hours: Saturday, May 15, 2021, 1-2:30 PM, at Hollis Funeral Home: 1105 West Genesee St. Syracuse. The family will have a private service at a later date.
Donations: In lieu of flowers, Donations can be made to The American Red Cross 344 West Genesee Street New York 13202or ONLINE www.redcross.org