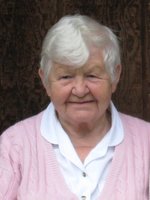 Vlasta Brilbeck
Vlasta Brilbeck died April 13, 2021 age 97 at the Crouse Community Center, Morrisville, New York. She was the daughter of Vaclav and Anezka Hromadkova, was born in Strakonice, Czech Republic on October 18, 1923 and grew up there.
She will be missed dearly by her family and friends. Vlasta enjoyed sewing, crocheting and gardening. She loved music and enjoyed a good polka.
She married John Brilbeck on December 25, 1947 after a courtship in the Czech Republic where John (serving in the army during World War II) was stationed and where they met and fell in love. They settled in West Monroe, New York.
Vlasta was predeceased by her husband John Brilbeck, her parents, three sisters and one brother. She is survived by four daughters and sons-in-law, Betty Jean and David Damon of Jacksonville, FL; Evelyn and Dave Lerner, Trudy and Jim Falcone, Sharon and Brad Gwynn all of Manlius, New York; 8 grandchildren and 12 great grandchildren.
No service or burial is planned. Vlasta has donated her body to Upstate Medical Center's Anatomical Gift Program.