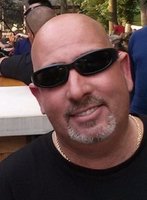 John Borczuk
John Michael Borczuk, 54 of Syracuse NY passed away Saturday April 3, 2021 at Community General Hospital from complications of COVID 19.
John was born February 9, 1967 in Syracuse, NY to the late Mary (Grealis)and Stanley Borczuk Sr. He was predeceased by his brother Stanley Borczuk Jr. and significant other Patty Pisarek.
John was a generous and caring man both in his personal and professional life and enjoyed his work in medical transport. John loved old cars, live music and especially his canine companion Sasha.
John is survived by his brother Rick Borczuk, nephews Alex, Ash and Aiden Borczuk, niece Alexis Borczuk-Riznyk and step father James Cross.
In lieu of services a celebration of life event is being planned in John's honor at a later date to be announced.