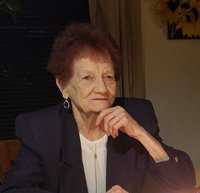 Phyllis Vryhof
Phyllis Vryhof, 91, went to be with her children on March 21st, 2021. Born in Ellenburg, NY, she was the daughter of Mildred Lord and Brayton Post. Phyllis always put others first and should be remembered for giving of herself in so many ways.
Phyllis is survived by her sister Barbara, her Grandchildren, John Dwyer, Michelle French, Danielle (Dwyer) O'Toole, Paul Dwyer, Monique (French) Pouliot, and Megan French. She also had several great-grandchildren, nieces, and nephews. She is predeceased by all 5 of her children, Teala (French) Dwyer, Billy, Mike, John, and Paul French.
A Funeral & Memorial Service will be at Hollis Funeral Home and will be private for family.
Phyllis will be buried at Oakwood Cemetery, Syracuse, NY on Wednesday, March 24th.