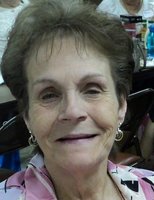 Betty Darlene Preslar
Betty Darlene Preslar ( Betty Boop ) of Phoenix, Ny (originally from Houston Texas) passed away peacefully surrounded by her family on February 5th, 2021. Betty was a wonderful wife, mother, grandmother (Nana), daughter, sister, aunt, and friend. Her greatest love was her family, she had a diverse career as a telephone operator, a nurses' assistant at a nursing home, Timberline Woodstoves, and Fays Warehouse where she met lifelong friends. She loved to collect Betty Boop memorabilia and salt and pepper shakers. Betty is survived by her children C.W. Preslar (Gina) of Willis, Texas, Tammy Olds (Jeffrey) of Phoenix, NY, Ivan T. Preslar III of Phoenix, NY, Michelle Stagles of Fairhaven, NY, Connie Ingoldby of Pennellville, NY, her mother Nolie Sommers, sister Sherrie Reisig (Don) , brothers Larry Fechner( Roma ), Leroy Sommers (Patricia) , and Curtis Somers ( Diana), sister in law Connie Carll ( Lloyd) all of Texas. Many grandchildren, great grandchildren, nieces, nephews, and cousins. Betty is predeceased by her Husband Ivan T. Preslar ll, her father Cullen Sommers, her son in law Richard Stagles, and her brother Thomas Sommers.
There will be a private celebration of Betty's life scheduled for a later date when we can all be together.
In lieu of flowers please make donations to Dementia and Alzheimer's research.