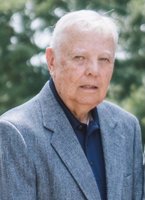 Jack R McCabe
Jack R. McCabe ended his life's journey on January 23, 2021 and is now with his siblings, Mary, Donald and Betty in the Kingdom of Heaven. Jack was born December 20, 1937 in Madison, NY to Edith and Donald McCabe.
As a lifelong and loyal Syracusan, Jack completed his undergraduate degree at Le Moyne College before enlisting in the US Army. After honorably completing his service, Private First Class McCabe returned home and earned his master's degree from Syracuse University. Jack found happiness and purpose in dedicating his career to generations of Syracuse's children as a teacher, mentor and coach for over 30 years in the Jamesville Dewitt School District.
Jack was an avid golfer winning the first ever Gerry Ashe Memorial District Amateur in 1973 and was golfer of the year in 1978. Most recently, in 2019, Jack was inducted into the SDGA Hall of Fame for his storied career. Jack was a friend to many. He cherished his close friendships and was proud of the relationships he built. Many of them, on the golf course.
Jack's family loved him beyond measure. He wasn't just "Uncle" Jack. He served as uncle, grandpa, teacher, coach, cheerleader and friend to his great nieces and nephews. A constant guiding light in the lives of those he loved.
Funeral Services Thursday: Visitation 10:30 AM in Church with a Mass of Christian Burial following at 11 AM Immaculate Conception Church 400 Salt Springs Fayetteville NY 13066 (Funeral Live Streaming site: icfayetteville.org/funerals)
Spring Burial St James Cemetery Cazenovia
Family request No Flowers, instead a "Memorial Bench "will be placed at Jack's favorite golf course, donations can be made "In memory of Jack McCabe" c/o
Michelle Cortese (niece) 4487 Abbey Road Syracuse New York 13215