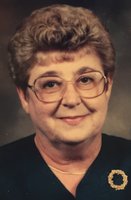 Lilyan McCann
Lilyan M. (Tometsko) McCann, 87, of Fayetteville, N.Y, formerly of Norvelt, died Jan. 20 in Syracuse, N.Y.
She was born Jan. 26, 1933, in Calumet, daughter of the late Michael and Mary (Gulibon) Tometsko. She was preceded in death by her loving husbands, Chauncey B. McCann, in 2020, and Charles W. Muchoney, in 1963; and her brother, William Tometsko.
Lilyan was a registered nurse at several hospitals, most recently H.C. Frick Community Hospital in Mt. Pleasant, retiring in 1990. She graduated from St. Francis School of Nursing, Pittsburgh. She was a member of St. Florian Church, United.
She is survived by sister-in-law Pauline Tometsko of Greensburg; children Richard McCann of Huntington, W.Va., Delores Sprung of Woodlands, Texas, Cathy (Stephen) Parfitt of Greensburg, Patricia Watkins of Greensburg, Mariann (Steve) Billmyer of Fayetteville, N.Y., and Charles (Kim) Muchoney of Pittsburgh; grandchildren Shani, Tara and Vik Subbarao, Jonathan Vesco, Amber Howardson, Courtney Aliotta, Nick and Emma Billmyer, and Madison and Caitlyn Muchoney; and 12 great-grandchildren.
Services and interment are private. Memorial contributions may be made to any food pantry or a charity of one's choice.