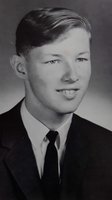 Gordon A Hall
Gordon Asa Hall 1949 - 2021
Gordon Asa Hall was born May 28, 1949 in Syracuse NY to Edward Hall and Althea Colvin Hall. He graduated from APW in 1967. He served in the US Navy as a jet mechanic doing two tours of Vietnam aboard the USS Enterprise and the USS Independence. At the time of his passing from COVID he was employed by the Husky Corporation in Toronto Canada..
He is survived by his wife Mae, her son Whylver, son Christopher Hall, granddaughter Amanda, grandson Jeremy, sisters Cassandra Clarke and Adrienne Bourgeois, brothers Jeffrey Hall, Edmund Hall, Matthew Hall and several nieces and nephews.
Due to the current travel restrictions, a burial service will be held at a later date.