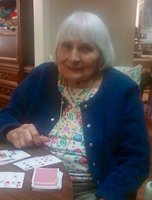 Mary Lyboult
Mary Lyboult 102, passed away on January 3, 2021. She was born on November 23 1918 in Utica NY to Constantine & Eva Rahalski, oldest of 8 children.
Mary was the matriarch of the Rahalski family. She devoted her life to family, church and her dogs.
Mary, (Aunt Mary), known to most was survived by her nieces and nephews, James Perrotti, Mary Yurista, Kathryn Thompson, Mike Worth, Diane Hernandez, Rose Smith, Mathew Rahalski, Alex Rahalski, Peter Rahalski, David Worth, Eva Tennant, Tony Rahalski, Lorri Nobles, Linda Skinner, great nieces and nephews and even several great great nieces and nephews. We all will miss her determination and devotion to life and family. May the Lord open his arms and welcome her to heaven where she may be reunited with her brothers and sisters who have passed before her.
Donations Humane Association of CNY4915 w Taft Road Liverpool NY 13088 or ONLINE www.humanecny.org
Due to Covid-19 Services are Private