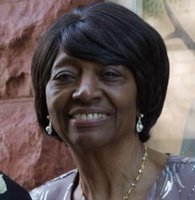 Bernice Johnson King
Bernice King, 86, passed away on January 1, 2021 at Van Duyn nursing home in Syracuse, NY.
Born in Culpeper, VA, she was the daughter of Minnie and Henry Johnson, she was the eldest of 6 children. She was a devoted mother, sister and friend.
She was employed by General Electric for 30 years, a Nursing Aide with Onondaga County for 20 years and Miller Brewery for 10 years.
She was a member of Gospel Temple in Syracuse and enjoyed bowling, singing/dancing and barbecues. Her favorite thing was being the Head Usher in her church.
She is survived by her only son Jeffrey (Lori) Bell of Baldwinsville and 3 grandchildren, Raquel Bradway of Syracuse, Taylor (Blaine) Sims of Baldwinsville and Jordan Bell of Baldwinsville; her great grand children, Alexander andAlysia Barfield.
Her favorite scripture is "I can do all things through Christ who strengthens me" Philippians 413
Due to COVID 19 restrictions, a celebration of Bernice's life will be held at a later date for her family.