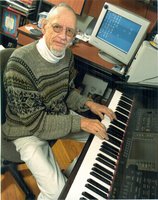 Philip Klein
Phil Klein, 93, passed away December 26, 2020 with his loving daughter Amy at his side. Phil was born and raised May 28, 1927 in Saranac Lake to Philip and Estelle Klein. He went on to serve in the Navy during WWII where he was a signalman. After serving in the Navy he earned his Bachelor's degree from Crane School of Music at Potsdam and his Master's degree from Ithaca College. His teaching career spanned three decades beginning at Lake George Central Schools. He moved to Syracuse in 1955 and taught at Skaneateles Schools for eight years before teaching for Onondaga Community College for 22 years. Klein wrote the Alma Mater for OCC in 1963 and it is still used at celebrations today. He also served as president of the New York State School Music Association for the 1968-69. He shaped the lives and careers of many music students who went on to have very successful teaching careers and careers as professional musicians. In 2007 he won the prestigious Helen Hosmer award for Excellence in Teaching from Potsdam.
Before, after, and during teaching Phil had a professional music career that had many facets. He had a band known as The Phil Klein Trio with bassist Mike Solazzo and drummer Jack Cantwell, as well as many solo gigs where he played all over the City of Syracuse and beyond. Phil was notable for his "thumb style" playing that was recognizable to those who knew his unique style of playing. He was an amazing entertainer, storyteller, and composer. He put on numerous shows for decades after his career in teaching ended. The most notable in recent years was his Thursday "class" at Artist piano. For seven years he and a tightly knit group of friends that came every week to listen to him play on a beautiful Steinway Grand Piano. He played songs from his very large repertoire and told stories about the composers and their songs straight from memory. Scott Dennis, local vocalist, accompanied him while the class often sang along. Thursdays at Artist Piano with his friends made him so happy, and he was most grateful to the store for being so gracious to have them all each week. As a composer he wrote numerous songs including "Happiness Is Children" as the theme song for Storytown USA in Lake George which played for more than a decade. He also collaborated with local vocalist Maria DeAngelis and had many songs that played on TV shows and the box office hit "The Fault in Our Stars". He was music director for the 70's children's show "Ladybug's Garden" where he also played "The Famous Mr. Shamus". He also sat in as the "Magic Piano" for his friend Tony Riposo on "The Magic Toy Shop". Phil won a Sammy Hall of Fame award for his accomplishments in 2001 receiving the award from his former student Joe Whiting. He received multiple awards through the years. The most important recognition he received was from so many of his former students who learned so much from him while enjoying his wonderful sense of humor! He formed many friendships with his former students; Tim Stockman and Phil became very close friends and talked on a regular basis. Tim put on a musical performance for Phil's 90 birthday at Maple Downs.
Phil was a loving Dad, peace activist, animal lover, and wonderful friend to so many people…. He was loved by so many. He won a Lifetime Peace Activist award in 2012 from Peace Action of Central New York. He was very active in his church The First Unitarian Universalists in Syracuse where he met so many good friends. He took great pride in his career at OCC where he is Professor Emeritus.
Phil is predeceased by his parents, his sister Julie Sharpe, sister Rosemary Heaney, Brother-In-Law in law John Heaney, and his brother John. He is survived by his daughter Amy Klein Hoefer and his son in law Tom of Oswego. Also surviving is his former wife of 29 years, Robin Klein of Syracuse, numerous nieces, nephews, cousins, and grandchildren. He has numerous friends noting his best friend David Abrams and his wife Cheryl, and his friend Peggy Flanders whose loving presence kept Phil going and enhanced his final years.
A Celebration of Life ceremony will be held at a later date. Contributions may be made to https://www.sunyocc.edu/support or by mail to OCC Foundation, 4585 Seneca Turnpike, Syracuse, New York 13215. Please place in memory of Phil Klein in the comments line online or the memo line on the check to ensure it will support Music student scholarships.