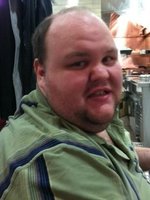 Thomas James "TJ" Wolfe
Thomas (TJ) James Wolfe, 35, died on December 25, 2020 after a brief battle with Covid
Born in Syracuse to Theresa Wolfe and Robert Lee on June 23, 1985..TJ was a graduate of Nottingham High School.
TJ was a kind hearted, head strong young man. He knew who he liked and what he liked and that was it. Rarely being convinced otherwise.
He often created little skits with friends and individualized for each person. Requiring them to answer back with scripted phrases made by him. Then repeat these scenarios over and over again.
He loved all cultures and taught himself to say hello and goodbye in many languages. Often surprising people at various cultural festivals. He never wanted to travel to these places. Probably because he was afraid his mom would make him go camping. It's happened. He loathed anything that took him away from internet and cable tv. He knew the capitals of most countries, ..even when he couldn't pronounce them. He also knew the capitals and most populist cities of each state. He did visit Alaska twice and Florida once....not by choice. He liked Alaska but hated Disney World. Go figure
.
He enjoyed music from the he 80's and older, knew who sang, the year released and the record label that recorded the song. Much the same with movies.
TJ loved the Great New York State Fair and all local festivals, especially the food.
He socialized mostly at Syracuse Polish Home where he found acceptance, patience, kindness, and many friendships.
Though he didn't adventure much, he lived exactly as he wanted. taking care of his mom, eating at local restaurants and drive thru's, playing on his computer and arguing with friends over which is better, Coke or Pepsi.
TJ is survived by his mother Theresa Wolfe, brother Travis Lee, grandmother Nancy Wolfe, Uncle Thomas Wolfe (Gina), aunt Gabrielle Wolfe and cousins, Christopher, Taylor, Ashley, Jacob, Joseph, Micheal & Porter. Predeceased by his father Robert Lee, grandfather Robert Wolfe, grandmother Judith Wolfe and uncle Shawn Wolfe.
Celebration of life to be held after our current health crisis is over. In lieu of flowers, please wear a mask and think of others during these difficult times. TJ did.
Memorial donations may be made " In Memory of TJ" to the Syracuse Polish Community Foundation Inc 915 Park Avenue Syracuse, New York 13204.