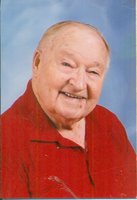 Paul Moseuk
Paul Moseuk, 92 passed away on April 19, 2020 predeceased by his loving wife Mary of 59 years.
He enlisted in the Navy lying about his age at 16 so he could join his other 8 siblings serving in World War II and went on to retire as the former owner of New Auto Parts of Auburn.
Paul is survived by his daughters Paula Strom, Joanne Myers, Liz (Scott) O'Hara, grandson Mitchell Myers, nieces and nephews and his extended O'Hara family.
Most important in life was always family and he also had many friends enjoying time spent at Bingo and senior get togethers: loved by everyone that knew him for his positive, upbeat nature.
Private burial with a memorial service and celebration of life at a future date.
Donations can be made to the Disabled American Veterans at dav.org.