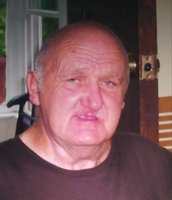 Leroy E Guthman
Leroy E. Guthman, 71 passed away on March 12th, 2020 at St. Joesph's hospital. He was the widow of Patricia Guthman. They shared 27 wonderful years of marriage.
Born in Herkimer, New York, he was the son of Mildred (Walker)Guthman. He is a high school graduate. He was employed as a custodian at theSs Peter and Paul Russian Orthodox Church He enjoyed going to the races the most but also enjoyed fishing, having yard sales, and going to the auction. He will be remembered by his honesty, love, caring nature and his loyalty.
Leroy is survived by his son Roy Guthman(Julie), daughter Joan Guthman(Mark), daughter Laura Becker(Eric); stepdaughter, Heather Merwin (Kevin) and several grandchildren, great grandchildren and nieces and nephews. He is predeceased, in addition to his wife Patricia, by his daughter Angela, sisters Pat, Laura and Joanie and his two grandchildren Carl and Anders and granddaughter, Stephanie
A celebration of life for Leroy will be held on March 22nd, 2020 at 12pm to 4pm at the VFW 2000 Lemoyne Ave, Syracuse New York 13208.