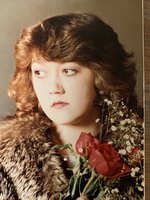 Patricia Joanne Ross
Patricia Joanne Ross, 61, of Syracuse peacefully passed away on March 1st 2020 in her daughters arms and can now rest after a 7 year battle with cancer. Patricia was raised on the south side of Syracuse by her grandmother Evelyn Ross, and was a graduate of Corcoran high school. Patricia worked for Marine Midland bank and in 1994 moved to Florida where she was owner and operator of a Texaco gas station. Patricia's love for the ocean and sea turtles would keep her in Florida until 2009 when she began her favorite job as a grandmother. From 2009 to 2018 Patricia would have three grandchildren who were her heart Mia (10) Cole (3) Ava (2). Patricia and her best friend / daughter always shared a love for music and attended many concerts through the years, later she would begin to share that love with her grandchildren. Patricia is predeceased by her father George Bergman and mother Dianne Ross and brothers Rick and Skip Bergman. She is survived by her daughter Amanda Tarolli, 3 grandchildren Mia (hippy bug), Cole (fishy), Ava (squeaker), brother Bryan Bergman, sister Christine Ross, and many nieces and nephews.
Calling Hours: Saturday 12 to 2PM Hollis Funeral Home 1105 West Genesee Street Syracuse.
Funeral Services will be held at a later date