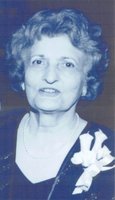 Lucy Waters
Lucy Waters, 86, of Solvay, passed away on Thursday, February 27, 2020. She was predeceased by her husband Ronald in 1985, brothers Joseph Addabbo and Frank Addabbo, and sisters, Lee Latimer and Mary Brady.

Born in Solvay to Pietro and Maria Addabbo, she attended Solvay schools. Lucy was a military wife and raised four sons while being stationed at bases in Geneva NY, Chicago IL, Niagara Falls NY, Syracuse NY, Val d'Or Quebec, Key West FL, and Calumet MI. After the family returned to Syracuse, she worked at Sibley's department store and Royal Insurance until her retirement. She was proud of the fact that she never missed a day of work.

Lucy was an accomplished crocheter and made numerous blankets and clothes for family and friends. Her Christmas stockings are especially prized.

She is survived by sons Peter (Loretta) Waters, Paul (Cathy) Waters, Andrew (Deborah) Waters and Stephen (Marianne Pansa) Waters; 11 grandchildren and 9 great grandchildren along with siblings Rose Zappala and Michael Addabbo.

Calling Hours: Wednesday 4 to 7PM Hollis Funeral Home 1105 West Genesee St. Syracuse.
Funeral Services: Thursday 9:30AM in St Cecilia Church Solvay, where a Mass of Christian Burial will be held.
Burial: St Mary's Cemetery DeWitt
Contributions: In Memory of Lucy Waters can be made to: Alzheimer's Association, Central New York Chapter 441 W. Kirkpatrick St. Syracuse NY 13204 or ONLINE www.alz.org (Please note: donations can be made from Hollis Funeral Home website by clicking on "DONATIONS" tab and entering: Alzheimer's Association Syracuse New York)