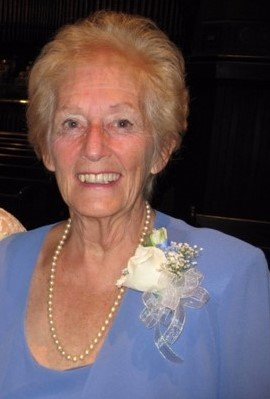 Obituary of Audrey Miles
Audrey Joyce Miles, 86, of Sandy Creek passed away June 13, 2017 after a long illness, with her children by her side. Joyce was born in Queens, NY to James Hopkin (born in Glasgow, Scotland) and Eileen Vollick (born in Wiarton, Ontario). Her mother was the first licensed female pilot in Canada. Joyce loved adventure too. At age 76 she went sky diving!
After high school and a brief career in NYC, Joyce attended SUNY Oswego to become a teacher. There she met her husband of 55 years, Denver Miles of Sandy Creek. (He passed in 2007.) They settled in Lacona and raised four children: James Miles of Fayetteville, Denise Yerdon (Stuart) of Lacona, Randy Miles (Donna) of Oswego, and Martha Lawrence of Sandy Creek.
Joyce taught 4-6th grades in the Sandy Creek School District for 34 years. She was very active in the school community, and was instrumental in faculty socializing events. Many students had the privilege of having her as a teacher, including her four children.
In addition to enjoying their cottage on Sandy Pond, the family loved to travel across the USA and Canada in their pick-up truck camper. They even went to Alaska and came back with two Husky puppies! They also cherished their many trips to Stowe, VT and Hilton Head, SC.
In 1971 Joyce and Denver bought the old church at the corner of Routes 3 and 15. Joyce turned it into the well-known and loved country store, The Church Mouse. She truly enjoyed her time there, visiting with both new and return customers, many of whom became her friends.
Joyce was very active in her community. She donated blood through the American Red Cross routinely for over 40 years, and also volunteered with NOCA for many years. Recently, she was very involved with the Coterie Club, and the Sandy Creek/Lacona History Center.
And of course, Joyce loved the company of her 4 children, 10 grandchildren, and 6 great grandchildren. Her home was the center of family holidays, Sunday dinners and special occasions for many years. All who knew her loved her spark, warmth, and sense of humor. Joyce was a very kind and generous person. She loved people and loved to have a good time.
Besides Joyce's immediate family, surviving her are: her sister Eileen Jean Barnes (John) of Bayside, NY and their children, Aunt Audrey Hopkin (age 99) of Charlottesville, VA, and numerous cousins in the United States and Canada.
Joyce loved her many pets over the years, especially her last dog, a yellow lab, Wertha (14). In lieu of flowers, contributions in memory of Joyce may be made to: United Friends of Homeless Animals, 432 Centerville Rd., Richland, NY 13144. A Celebration of Life service and reception will be held at Sandy Pond later this summer.
In loving memory of A. Joyce Miles, December 11, 1930 – June 13, 2017.
Please join us for a memorial service honoring Joyce's life at The Elms Golf Club
2 Country Club Lane Sandy Creek, NY 4 PM Saturday September 9, 2017