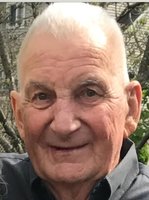 John C. "Jack" Smolen
John C. "Jack" Smolen passed away peacefully on December 27, 2017 surrounded by the love of his family.
Jack was a master builder in all areas of life. He and the love of his life, Mary Saro Smolen, built a foundation based on 53 years of marriage. A lifelong resident of Syracuse, he lived in a home he built himself in Lakeland for 51 years. His proudest accomplishment was his close-knit family built in 1965 with daughter Lori (Michael) Scaravillo, son John F. (Lisa) Smolen and daughter Aimee Smolen Kerr. His pride & joy were his six grandchildren: Sophia Scaravillo, Kristen & Jonathan Smolen and Mikayla, Antonia & Gabriella Kerr; as well as his grand-puppies.
Jack was a prominent homebuilder & founded SMOLEN HOMES in 1963. He was proud of the relationships he built as he mentored numerous tradesmen. He worked side by side with his son John, since 1984 who assumed his business in 2003.
Jack was born on March 30, 1940, the eldest son of the late Wanda (Krupa) & John P. Smolen. He was predeceased by his sister Carol and Aunt Lottie Radford. He is survived by brothers Bob (Sondra) Smolen & Frank (Cindy) Smolen & his nephew, nieces & cousins.
Jack loved the outdoors & spent a great number of his years camping with friends, who became family at Fish Creek Ponds in the Adirondacks. He spent the last several months of his life in his new home in Timber Banks. He loved waking to the view of the golf course and the beauty of the sunrise each morning.
His optimism and sense of humor will be missed. Donations can be made to www.helpinghoundsdogrescuse.org
Calling hours: Friday 4-7pm Hollis Funeral Home, 1105 West Genesee St., Syracuse
Funeral Services: Saturday 9:30 am Our Lady of Peace Church, Lakeland