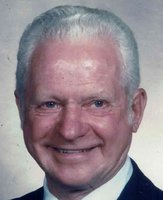 John "Yanks" Wleklinski
John "Yanks" Wleklinski , 94, passed away on December 6, 2017, after a brief illness.
He was born on December 21, 1922, the eldest son of Polish immigrants Stefan Wleklinski and Phyllis Szczepanska. John was a lifetime resident of Syracuse, residing on Tipperary Hill for over 50 years. He was a graduate of Sacred Heart School in 1937, and Vocational High School in 1941 where he lettered in football, basketball and track. He was a WW II veteran, proudly serving our country in the US Coast Guard from 1942-1945. John was the owner/proprietor of the Dutchman's Restaurant in Baldwinsville NY from 1956-1972, where he loved to sing the Schnitzelbank. After selling the business, he retired from New Process Gear in 1979.
In his early days, John coached basketball at Sacred Heart Grammar School, and the Happy Hearts semi-professional football team. He loved bowling, and looked forward to the annual PRCU tournaments he was proud to attend for 30 years. John bowled in the Empire State Senior Games, and made the Nationals in 1991. He was also an avid supporter of Syracuse University sports attending football and basketball games dating back to Archbold Stadium and Manley Field House.
John was a lifetime communicant of Sacred Heart Basilica, a member of the Polish Roman Catholic Union of America, the Syracuse Polish Home and the Happy Hearts Club.
He was a man of great resilience with a deep faith in God, who was proud of his family and his Polish Heritage.
John is predeceased by his wife, Alice V. Grudzinski in 1972 and Dora E. Costello in 1986, father, Stefan in 1932; mother Phyllis in 1986 , brother Chester in 1992 and sister, Betty Kleminich in 2010.
He is survived by his daughter, Mary Alice Winn (Kevin) of Baldwinsville; son, John J. "Buddy" (Patricia) of Camillus, granddaughters Amanda Winn and Alyssa Wleklinski; a brother, Leonard Szymanoski of N. Syracuse, Dora's son David Costello (Marilyn) of Cicero, and children Joe and Kimberly and families, and many, many, nieces and nephews.
Calling hours: Sunday 4-7pm Hollis Funeral Home, 1105 West Genesee St. Syracuse. Funeral Services: 9:30 AM MondaySacred Heart Basilica. Burial with Honors will be in Sacred Heart Cemetery, Geddes.
The family asks that donations in John's name be made to Sacred Heart Basilica: 927 Park Ave Syracuse NY 13204, or the CBA Booster Club: 6245 Randall Rd Syracuse NY 13214