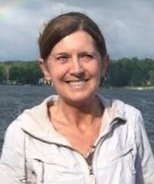 Marsha Ann Dow
Marsha Ann (Standish) Dow of Castile, NY, age 58, passed on to her eternal home in heaven on Thanksgiving Day, November 23, 2017. Marsha is survived by her loving father, Richard J. Standish of Dansville, NY; her daughter, Crystal M. Lanpher; her devoted sister, Rebecca(Becky) J.Kasperek (Paul) from Owego, NY; her son-in-law, Brian Lanpher; two granddaughters, Katie and Sarah Lanpher; and two nephews, Isaac and Josiah Kasperek. Predeceased by her mother, June S. Standish. She also leaves behind loving uncles, aunts and cousins, along with many friends, whom she loved dearly.
Marsha graduated from Perry Central in 1978 and went to Florida to attend Airline School. She returned to Perry and began a job for 11 years at Champion Factory. Then she worked in Rochester for Cooper Vision for 4 years. SUNY Geneseo then hired Marsha where she loved working and serving the campus and students for 17 years in the Facilities Department. She was an excellent cleaner and helped anyone in need. She loved to laugh,going camping, and spending time with her granddaughters. She loved baking, eating, and sharing her sweets, too. She is well known for her famous "Pumpkin Rolls" and beef log!
Marsha's "Celebration of LIFE" Memorial Service will be held on Saturday, December 16th, 2017, from 1 to 3pm at First Congregational Church, Rte.20A Perry Center Road, PerryCenter, NY. Any donations can be directed to Home Care & Wyoming County Hospice, 450 N. Main St. Warsaw, NY 14569. A VERY SPECIAL THANK YOU to Wanita Krause and her family for loving and caring for Marsha during her final days.