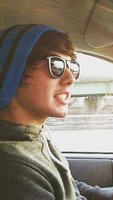 Dominic Muscolino, Jr.
Dominic Muscolino, Jr. went to heaven to join his mother, Veronica, on November 16, 2017. Dom spent most of his short-lived years as the Good Samaritan that Jesus desires all of us to be.

Dominic's life would seem too short to many, but those who truly knew him understood that the quality of existence far exceeds the quantity of time in which one lives. His memorable smile, overabundance of joy and willingness to love others far exceeded the common man. Dominic's passion for music, film and writing was always showing in his everyday demeanor and his love for his friends and family was second to none. Anyone who truly knew Dominic, knew he would be there to care for and help them in any way needed. He put all others before himself, just as Jesus Christ asks each of us to do.

Dominic spent most of his life studying and performing music and arts. He was diligent at learning and dissecting the world of film and theatrical studies, as he spent countless hours watching and studying all genre. His passion for film far exceeded the norm, and placed him in a category that was unparalleled by the common student. Dom also travelled and performed several years with the infamous Empire Statesman.

Dominic is predeceased by his loving mother, Veronica Muscolino; survived by his loving father, Mickey Muscolino; sisters Chelsie Newell (Randy) and Tara Muscolino; paternal grandparents, Patricia and Ed Houle; maternal grandparents, Linda and Ron Clark; Aunt Sandy (John) Azzotto; Uncles Mel (Patty) Klosheim, Patrick (Jill) Muscolino, Dave Parody and James Jock; Niece, Emma; Nephews, PJ, Christian and Robert; Cousins, Jessica, Jason, Jared, Jena, Emma, Delyeja and Hakeem.

The celebration of Dominic's life will be Sunday, 11/19/17, from 4 pm – 7 pm at The Vineyard Church, 312 Lakeside Road, Syracuse, NY 13209.
In lieu of flowers, donations may be made to:

Mickey Muscolino OR The Vineyard Church
c/o Dominic Muscolino 312 Lakeside Road
402 Frederick St. E. Syracuse, NY 13209
East Syracuse, NY 13057