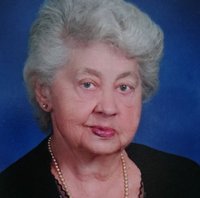 Czeslawa Maria Sienczak
Early on November 5th, Czeslawa Maria Sienczak was reunited in heaven with Adam, her beloved husband after a twenty-two year separation.
Baba, or Jessie was born on April 10th,1929 in Stanislawow, Poland, the eldest daughter of Romuald and Emelia Jaskiewicz. She and her family survived the crucible of WWII, first occupation by the Soviet Army, then the horror of the Nazi invasion, occupation and eventual deportation to Germany. At the conclusion of the war Czeslawa and her family became political refugees in the American zone of occupation in Bavaria.
In 1947, she met Adam Sienczak a fellow Polish refugee and former forced agricultural laborer who was a driver and mechanic for the 3rd U.S. Army. They were married March 29th, 1948, then immigrated to the U.S., sponsored by Catholic Charities, in the spring of 1949.She and Adam settled in the West End of Syracuse. Czeslawa was an avid gardener, gifted with a green thumb, and an excellent cook whose traditional Polish dishes and baked goods were highly anticipated during holiday and family functions.
Czeslawa and Adam raised five children: Irene Christopher (Leonard), Mary Kott (Dave Klaczko), Frank (Nancy), Diana Signore (Thomas), and John (Catherine). She will be greatly missed by her grandchildren: Leonard Christopher (Shelly), Michael Christopher (Jennifer), Jennifer Baxter (Jamie), Johanna Cooper (Brent), Adam, Alexis, and Anna Sienczak and Ashley Signore. Great grandchildren Silas Baxter, and Avery and Reid Christopher will miss her loving guidance.
Surviving siblings include Irena Michalska, Janina Banaszak, Wilhelm Jaskiewicz, Krystyna Halat, and Wladyslaw Jaskiewicz. She was predeceased by her sister Mieczaslawa Zukierska.
In memory of Czeslawa, donations may be made to The Syracuse Polish Home, 915 Park Avenue, Syracuse, NY 13204. Calling hours: Wednesday 4 to 7PM Hollis Funeral Home 1105 West Genesee St. Syracuse. Funeral services: Thursday 9:30 AM Sacred Heart Bascilica. Burial: Sacred Heart Cemetery Geddes.