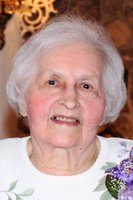 Mary Lottie Wolicki
Mary L. Wolicki, 99, of Syracuse passed away peacefully on Saturday. She was a waitress at Gruens restaurant for many years. She had a lifelong devotion with God that she passed on to her children and grandchildren. She is deeply loved and will be dearly missed by her family and friends.
Mary is predeceased by her husband John E. Wolicki. She is survived by son Ronald (Ann) Wolicki, daughter Darlene Gridley. Grandchildren Eric (Kara) Gridley, Nicole (Jason) Hanas, Lisa (Robert) Wickline, Jon Gridley, Mark Wolicki, and Michael Wolicki. She is also survived by 9 great grandchildren.
Thank you to Bishop Rehabilitation & Nursing Center for your campassion and care.
Calling Hours: Tuesday 4-7PM Hollis Funeral Home 1105 West Genesee St.
Funeral Mass: Wednesday 10AM at St. Lucy's Church 432 Gifford St, Syracuse, NY 13204.
Burial: Sacred Heart Cemetery, Geddes.