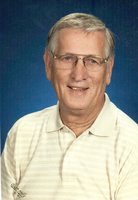 Alexander Kravec
Alexander Kravec, AKA "Nice Guy Al", 88 of Syracuse passed away peacefully at home on Monday evening. Al will be remembered for his charisma, joking nature and outstanding love he felt for his family. He was a loving devoted, faithful friend to many and sometimes a big pain in the butt (he would agree to that).
Al was a tractor trailer driver for numerous trucking firms; drove taxi for Century Airport for many years and was the oldest taxi driver in Syracuse. Al was an avid bowler and was well known through out many bowling leagues. Al could play several instruments without ever learning to read music; enjoyed a good game of billiards and the joy of dancing.
Al was predeceased by his wife Kathleen (Levett) Kravec. Surviving are his son Alexander (Leslie) daughter Elizabeth Renna (Rob Dailey), Mary Shields of Fishers Island, NY and long time companion Maureen Clum along with granddaughters Jordyn Kravec, Hailee Deverso, Alexis Deverso, Danielle Deverso, Ava Renna along with nephews Father Michael Taylor and William Taylor.
Calling hours will be held on Sunday from 2 to 5 PM at Hollis Funeral Home at 1105 W. Genesee St Syracuse with services to be held Monday at Our Lady of Hope at St James Church on Salina St at 11 AM with burial to follow at Valley Cemetery.