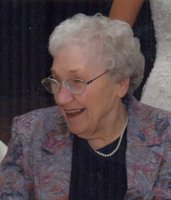 Lucy K. Wroblewski
Lucy K. Wroblewski, 95, passed away at home. She was a member of Blessed Sacrament Church and its Alter and Rosary Society and Sacred Heart Seniors. Lucy was retired after 25+ years with Sealtest- Kraft Foods.
She was predeceased by her husband Chester. Survived by her sons: Chester (Anna) and Mark Wroblewski. Sisters: Wanda and Edna, 3 Grandchildren: Alex (Darcy), Sidney (Jen), and Danielle. 2 Great grandchildren Sophia and Liam.
Special thanks to the "Four care ladies"
In lieu of flowers donations can be made to PEACE, Inc., ONLINE: http://www.peace-caa.org/about-us/ OR mailed directly to 217 South Salina Street, 2nd Floor, Syracuse, NY 13202
Calling Hours: Sunday, February 11th, 2:00-4:00PM at Hollis Funeral Home 1105 West Genesee St. 1105 West Genesee St. Syracuse.
Funeral Services: Monday, February 12th, 10:30AM at Blessed Sacrament 3127 James St, Syracuse, NY 13206
Burial: St. Mary's Cemetery