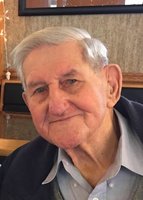 Walter George Slazik
Walter George Slazik entered into eternal rest peacefully on February 5, 2018.
He was born in Clinton, NY on May 7, 1926 to Stella & Michael Slazik. Education being central to Walter, he was a graduate of Clinton High School, Texas A&M University and Syracuse University where he was a member of Sigma Chi. Among his proudest accomplishments was his service in the United States Navy during World War II. He had a varied career in sales, manufacturing and construction that was highlighted by patents developed in the manufacturing of x-ray doors and later chalkboards that were installed in area high schools including Westhill and Bishop Ludden, both located in Westvale where he resided for 60 years. In his retirement he owned and operated the former Candy Connection in Armory Square with his daughter; an endeavor he loved and earned him the title of "Candy Man". He was an active member of St. Charles of Borromeo Church.
Walter will be remembered, loved and especially cherished by his surviving wife of 69 years, his "Sweet Adeline", their children, Michael (Anny), Paul (Kathy), and Jeanne (Tom) Michaels, his granddaughter, Kimberly Graf, who he selflessly raised as his own, ten grandchildren and three great grandchildren. He is preceded in death by his only sibling and sister, Gladys Garon and oldest daughter, Susan Slazik Dusse and youngest son, David.
Walter will forever be remembered as a selfless, kind-hearted man who generously gave of himself spiritually and materially to anyone in need. His entire life centered around caring for his family and instilling in them the importance of always striving for balance in the wheel of life, always doing your absolute best and making sure you are always prepared. He loved and protected his family fiercely and the imprint he made on this earth will be remembered always.
Calling Hour Saturday, February 10th, 9:00 to 10:00AM St Charles Borromeo Church with Funeral Mass following.